Facility Parking
Parking Notice- Paid Parking Pilot Project
Pay stations were installed at the main entrance of Saville, & on October 1, 2020 they go into effect! If you don't want a ticket, read closely for the parameters of paid parking areas outlined by the University. GO Sports (Ortona, Grads, & EVCS) have engaged the University to discuss this pilot parking project as we do not agree with the pilot. These discussions are ongoing, & the following letter was submitted to the President of the UofA from GO Sports.
Letter/Media Release: https://www.gosports.ca/media-release/
Select areas to be designated paid parking on South Campus
Effective October 1, 2020, paid parking will be implemented in a select area of the Saville Community and Sports Centre to assist in recovering costs associated with parking operations and maintenance. These paid spaces will be clearly signed.
Majority of parking spaces remain free of charge
All accessible parking spaces adjacent to the Saville Community Sports Centre facility remain free of charge 24 hours, 7 days a week, for vehicles with disabled placards. The majority of Lot J, as well as the Foote Field parking lot, remain free. Additional free parking continues to be available evenings and weekends at adjacent Government of Alberta sites.
Maximum hours in effect
Paid parking spaces can only be purchased for a maximum of 4 hours on weekdays to mitigate use of Park & Ride.
No additional traffic is expected on South Campus as a result of these changes.
Parking rates
$2.50/2 hours | $5.00/4 hours
$10.00 all day on weekends and designated tournament days
Saville Community Sports Centre is a busy place, so parking is often limited. Ortona members can park in the Government of Alberta lots on evenings after 5:00PM, and weekends so please take advantage of those. The Government lots are indicated in blue and tagged D and E on the map below and can be accessed from 116th Street off of Belgravia Road. In addition, Lot 65 is now available for weekend use, with the purchase of a pass.

TAG & TOW is now in effect, please obey parking signs!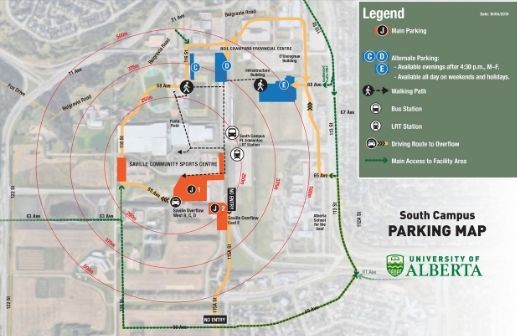 Here are the details around purchasing a Lot 65 weekend pass. Lot 65 is not available until a person has paid for their pass. If you do not have a pass, you will most likely be ticketed.
1) Visit the University of Alberta Parking Portal.
2) Select "Guest Log In" and create a guest account.
3) Select the offering for Lot 65 - $25.00 fee.
4) Make your payment.
Parameters of the weekend pass:
> Purchase is current day to end of month, and then renewable for one month at a time.
> The owner must go in and renew each month.
> The cost is $25/month or portion thereof.
> The pass is applicable only on weekends in Lot 65 (Saturday and Sunday only, 6:00am to next day 6:00am)
> The pass can be purchased online by anyone who wants one.
> There is a limit of 100 active passes at one time.
Ortona Gymnastics Club recognizes that the parking situation is not ideal for members during busy weekends at the Saville Center. To alleviate parking concerns, we will provide "Walk-in" services on select dates to ensure your child can be dropped off, and walked in safely to Ortona with an OGC member. Once dates are finalized, they will be posted here to ensure you can make use of our service.
We thank you for your understanding, and are pleased to provide a service to benefit our members.
Step 1: Visit the following link: https://www.ualberta.ca/parking-services
Step 2: Click "My Parking Account"
Step 3: Click "Get Permits" from the drop down menu.
Step 4: Make a guest account.
Step 5: Click "Create One"
Step 6: Complete account profile
.
Step 7: Purchase a permit. Select the offering for the $25.00 monthly permit holder for Lot 65.